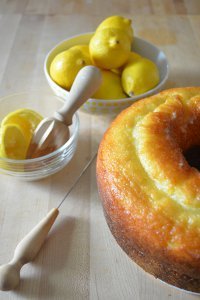 Old fashion Lemon Pound Cake
2015-02-25 14:55:56
Found this recipe, I think you are going to like this one!
Ingredients
1 cup unsalted butter, room temperature
1 2/3 cup sugar
2 teaspoons finely grated lemon zest
1 tablespoon fresh-squeezed lemon juice
1 tablespoon pure vanilla extract
5 eggs
2 cups cups unbleached flour + teaspoon salt, sifted
1 Bundt cake pan
Instructions
Preheat an oven to 325 degrees F.
Butter and flour a bundt pan.
In a large mixing bowl, beat the butter and sugar with an electric beater until the mixture is pale and creamy, about 5 minutes.
Beat in the lemon zest, lemon juice, and vanilla.
Add the eggs, 1 at a time, beating until just combined after each addition.
Fold in the flour and salt mixture in 2 batches, mixing after each addition until well combined. Be careful not to over mix.
Spoon the batter into the bundt pan and bake for 45 to 55 minutes, or until a skewer poked into the cake comes out clean.
Cover the pan loosely with aluminum foil if the crust browns too quickly.
Remove cake from oven and cool on a wire rack for 10 minutes.
Remove the Old Fashioned Lemon Pound Cake from the bundt pan and place onto a wire rack to cool completely.
Adapted from recipelion.com
Adapted from recipelion.com
From The Chef To You http://fromthecheftoyou.com/